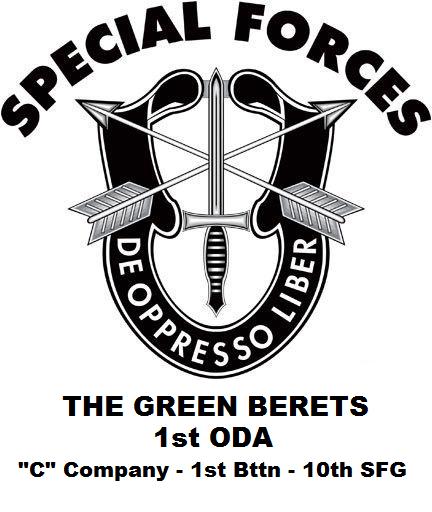 I am the 2nd Lieutenant JG. Laffont alias BIBI.
I command the 1st Operational Detachment ''A'', C Company, 1st Bttn, 10th SFG.
I am responsible for training and combat readiness for this detachment.
Our detachment is ordered to special training and can be used anywhere in the world to support and assist friendly governments in the anti subversive fight.
It can also practice the methods of unconventional warfare.
Our operators are subject to individual survival exercises in various conditions.
Our detachment is composed of 4 operational sticks. Each stick is composed of 3 to 4 operators.
Here is list of 1st ODA current operators :

Alpha Stick :

2nd LTN JG. LAFFONT
CPL T. VEYRIER
PVT S. DENYS

Bravo Strick :

CPL G. MAY
PVT JB. LAFFONT
PVT S. PRIERE

Charlie Stick :

CPL B. ROBY
PVT D. MIERAL
PVT N. MARAVAL

Delta Stick :

CPL G. VERNEY
PVT R. HEMMER
PVT C. CAVALIER
Here is list of 1st ODA completed missions :
07 - 2006 : OP BLACKWATER
07 - 2008 : OP HOLY BEARS
08 - 2008 : OP BLACKWATER I
09 - 2008 : RCA Tournament
03 - 2010 : OP DOG EAT DOG
05 - 2010 : OP HIGHWAY TO HELL
06 - 2010 : OP BLACKWATER II
10 - 2010 : OP ENEMY LINES
Our detachment is ready to fight and we would be proud to serve alongside you.